Tag life
Latest posts for tag life
2018-08-03 11:26:51+02:00
These are the notes from my DebConf18 talk
Slides are available in pdf and odp.
Abtract:
Starting from Debian, I have been for a long time part of various groups where diversity is accepted and valued, and it has been an invaluable supply of inspiration, allowing my identity to grow with unexpected freedom.

During the last year, I have been thinking passionately about things such as diversity, gender identity, sexual orientation, neurodiversity, and preserving identity in a group.

I would like to share some of those thoughts, and some of that passion.
Multiple people
"Debian is a relationship between multiple people", it (I) says at the entrance.
I grew up in a small town, being different was not allowed. Difference attracted "education", well-meaning concern, bullying.
Everyone knew everyone, there was no escape to a more fitting bubble, there was very little choice of bubbles.
I had to learn from a very young age the skill of making myself accepted by my group of peers.
It was an essential survival strategy.
Not being a part of the one group meant becoming a dangerous way of defining the identity of the group: "we are not like him". And one would face the consequences.
"Debian is a relationship between multiple people", it (I) says at the entrance.
Debian was one of the first opportunities for me to directly experience that.
Where I could begin to exist
Where I could experience the value and pleasure of diversity.
Including mine.
I am extremely grateful for that.
I love that.
This talk is also a big thank you to you all for that.
"Debian is a relationship between multiple people", it (I) says at the entrance.
Multiple people does not mean being all the same kind of person, all doing all the same kind of things.
Each of us is a different individual, each of us brings their unique creativity to Debian.
Classifying people
How would you describe a person?
There are binary definitions:
Good / Bad
Smart / Stupid
Pretty / Ugly
White / Not white
Rich / Poor
From here / immigrant
Not nerd / Nerd
Straight / Gay
Cis / Trans
Polite / Impolite
Right handed / left handed (some kids are still being "corrected" for being left handed in Italy)
Like me / unlike me
Labels: (like package sections)
Straight
Gay
Bi
Cis
Trans
Caucasian
...
Like me / unlike me
Spectra: (like debtags)
The gender spectrum
The sexual preference spectrum
The romantic preference spectrum
The neurodiversity spectrum
The skin color spectrum
The sexual attraction spectrum
We classify packages better than we classify people.
Identity / spectrums
I'm going to show a few examples of spectra; I chose them not because they are more or less important than others, but because they have recently been particularly relevant to me, and it's easier for me to talk about them.
If you wonder where you are in each spectrum, know that every place is ok.
Think about who you are, not about who you should be.
Gender identity
My non binary awareness began with d-w and gender neutral documentation.
Sexual orientation
https://en.wikipedia.org/wiki/Human_sexuality_spectrum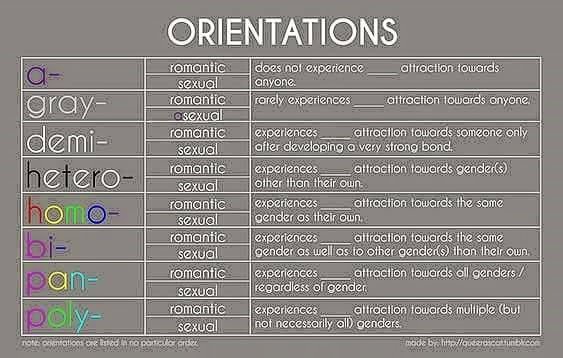 Neurodiversity
I'll introduce neurodiversity by introducing allism
An allistic person learns subconsciously that ey is dependent on others for eir emotional experience. Consequently, ey tends to develop the habit of manipulating the form and content of social interactions in order to elicit from others expressions of emotion that ey will find pleasing when incorporated into eir mind.
https://fysh.org/~zefram/allism/allism_intro.txt
The more I reason about this (and I reasoned about this a lot, before, during and after therapy), the more I consider it a very rational adaptation, derived from a very clear message I received since I was a small child: nobody cared whom I was, and to be accepted socially I needed to act a social part, which changed from group to group. Therefore, socially, I was wrong, and I had to work to deserve the right to exist.
What one usually sees of me in large groups or when out of comfort zone, is a social mask of me.
This paper is also interesting: analyzing tweets of people and their social circle, they got to the point of being able to predict what a person will write by running statistics only on what their friends are writing.
Is it measuring identity or social conformance?
Discussion about the autism spectrum tends to get very medical very fast, and the DSM gets often criticised for a tendency of turning diversity into mental health issues.
I stick to my experience from a different end of the spectrum, and there are various resources online to explore if you are interested in more.
Other spectra
I hope you get the idea about spectrum and identity.
There are many more, those were at the top of my head because of my recent experiences.
Skin color, age, wealth, disability, language proficiency, ...
How to deal with diversity
How to deal with my diversity
Let's all assume for a moment that each and every single one of us is ok.
I am ok.
You are ok.
You've been ok since the moment you were born.
Being born is all you need to deserve to exist.
You are ok, and you will always be ok.
Like every single person alive.
I'm ok.
You're ok.
We're all ok.
Hold on to that thought for the next 5 minutes. Hold onto it for the rest of your life.
Ok. A lot of problems are now solved. A lot of energy is not wasted anymore. What next?
Get to know myself
Awareness:
what do I like / what don't I like?
what am I interested in?
what would I like to do?
what do I know? What would I like to know?
what do I feel?
what do I need?
Get in touch with my feelings, get to know my needs.
Here's a simple algorithm to get to know your feelings and needs:
If you are happy, take this phrase: I feel … because my need of … is being met
If you are not happy, take this phrase: I feel … because my need of … is not being met
Fill the first space with one of the words from here
Fill the second space with one of the words from here
Done!
To know more about Non-Violent Communication, I suggest this video
This other video I also liked.
Forget absolute truths, center on my own experience. Have a look here for more details.
Learn to communicate and express myself
Communicating/being oneself
enjoy what I like
pursue my interests
do what I want to do
study and practice what I'm interested in
let myself be known and seen by those who respect who I am
Find out where to be myself
Look for safe spaces where I can activate parts of myself
Friends
Partners (but not just partners)
Interest groups
Courses / classes
Debian
DebConf!
Learn to protect myself
I will make mistakes acting as myself:
Mistakes do not invalidate me, Mistakes are opportunity for learning.
I need to make a distinction between "I did something wrong" and "I am wrong"
Learn to know my boundaries
Learn to recognise when they are being crossed
Negotiate
Use my anger to protect my integrity. I do not need to hurt others to protect myself
How to deal with the diversity of others
Diversity is a good thing
Once I realised I can be ok in my diversity, it was easier to appreciate the diversity of others
Opening to others doesn't need to sacrifice oneself.
I can embrace my own identity without denying the identity of others.
Affirming me does not imply destroying you
If I feel I'm right, it doesn't mean that you are wrong
Curiosity is a good default.
Do not assume. Assume better and I'll be disappointed. Assume worse and I'll miss good interactions
Listen
Connect, don't be creepy
Interact with people, not things
People are unique like me
Respect others and myself
listen to my red flags
choose my involvement
When facing the new and unsettling, use curiosity if I have the energy, or be aware that I don't, and take a step back
The goal of the game is to affirm all identities, especially oneself.
Love freely.
Expect nothing.
Liberate myself from imagined expectations.
YKINMKBYKIOK.
What is not acceptable
https://en.wikipedia.org/wiki/Paradox_of_tolerance
Less well known is the paradox of tolerance: Unlimited tolerance must lead to the disappearance of tolerance. If we extend unlimited tolerance even to those who are intolerant, if we are not prepared to defend a tolerant society against the onslaught of the intolerant, then the tolerant will be destroyed, and tolerance with them. — In this formulation, I do not imply, for instance, that we should always suppress the utterance of intolerant philosophies; as long as we can counter them by rational argument and keep them in check by public opinion, suppression would certainly be unwise. But we should claim the right to suppress them if necessary even by force; for it may easily turn out that they are not prepared to meet us on the level of rational argument, but begin by denouncing all argument; they may forbid their followers to listen to rational argument, because it is deceptive, and teach them to answer arguments by the use of their fists or pistols. We should therefore claim, in the name of tolerance, the right not to tolerate the intolerant.
Use diversity for growth
Identifying where I am gives me more awareness about myself.
Identifying where I am shows me steps I might be interested in making.
Identity can change, evolve, move I like the idea of talking about my identity in the past tense
Diversity as empowerment, spectrum as empowerment
I'm in the trans* spectrum at least as far as not needing to follow gender expectations, possibly more
I'm in the autism spectrum at least as far as not needing to follow social expectations, possibly more
I'm in the asexual spectrum at least as far as not seeing people as sexual objects, possibly more Once I'm in, I'm free to move, I can reason on myself, see other possibilities
Take control of your narrative: what is your narrative? Do you like it? Does it tell you now what you're going to like next year, or in 5 years? Is it a problem if it does?
Conceptual space is not limited. Allocating mental space for new diversity doesn't reduce one's own mental space, but it expands it
Is someone trying to control your narrative? gaslighting, negging, patronising.
Debian and diversity
Impostor syndrome
Entering a new group: impostor syndrome. Am I good enough for this group?
Expectations, perceived expectations, perceived changes in perceived identity, perceived requirements on identity
I worked some months with a therapist to deal with that, to, it turned out, learn to give up the need to work to belong.
In the end, it was all there in the Diversity Statement:
No matter how I identify myself or how others perceive me: I am welcome, as long as I interact constructively with my community.
Ability of the group to grow, evolve, change, adapt, create
And here, according to Trout, was the reason human beings could not reject ideas because they were bad: "Ideas on Earth were badges of friendship or enmity. Their content did not matter. Friends agreed with friends, in order to express friendliness. Enemies disagreed with enemies, in order to express enmity.

"The ideas Earthlings held didn't matter for hundreds of thousands of years, since they couldn't do much about them anyway. Ideas might as well be badges as anything.

(Kurt Vonnegut, "Breakfast of Champions", 1973)
Keep one's identity in Debian
If your identity is your identity, and the group changes, it actually extends, because you keep being who you are.
If your identity is a function of the group identity, you become a control freak for where the group is going.
When people define their identity in terms of belonging to a group, that group cannot change anymore, because if it does, it faces resistance from its members, that will see their own perceived identity under threat.
The threat is that rituals, or practices, that validated my existance, that previously used to work, cease to function. systemd?
can I adapt when facing something new and unexpected?
do I have the energy to do it?
do I allow myself to ask for help?
Free software
Us, and our users, we are a diverse ecosystem
Free Software is a diverse ecosystem
Free software can be a spectrum (free hardware, free firmware, free software, free javascript in browsers...)
Vision
Debian exists, and can move in a diverse and constantly changing upstream ecosystem
Vision / non limiting the future of Debian (if your narrative tells you what you're going to like next year, you might have a problem) (but before next year I'd like to get to a point that I can cope with X)
Debian doesn't need to be what people need to define their own identity, but it is defined by the relationship between different, diverse, evolving people
Appreciate diversity, because there's always something you don't know / don't understand, and more in the future.
Nobody can know all of Debian now, and in the future, if we're successful, we're going to get even bigger and more complex.
We're technically complex and diverse, we're socially complex and diverse. We got to learn to deal with with that.
Because we're awesome. We got to learn to deal with with that.
Ode to the diversity statement
https://www.debian.org/intro/diversity
debconf
debian
eng
life
pdo
talk
2017-08-13 16:26:40+02:00
On 2017-08-06 I have a talk at DebConf17 in Montreal titled "Consensually doing things together?" (video). Here are the talk notes.
Abstract
At DebConf Heidelberg I talked about how Free Software has a lot to do about consensually doing things together. Is that always true, at least in Debian?
I'd like to explore what motivates one to start a project and what motivates one to keep maintaining it. What are the energy levels required to manage bits of Debian as the project keeps growing. How easy it is to say no. Whether we have roles in Debian that require irreplaceable heroes to keep them going. What could be done to make life easier for heroes, easy enough that mere mortals can help, or take their place.
Unhappy is the community that needs heroes, and unhappy is the community that needs martyrs.
I'd like to try and make sure that now, or in the very near future, Debian is not such an unhappy community.
Consensually doing things together
I gave a talk in Heidelberg.
Debian France distributed many of them.
There's one on my laptop.
Which reminds me of what we ought to be doing.
Of what we have a chance to do, if we play our cards right.
I'm going to talk about relationships. Consensual relationships.
Relationships in short.
Nonconsensual relationships are usually called abuse.
I like to see Debian as a relationship between multiple people.
And I'd like it to be a consensual one.
I'd like it not to be abuse.
Consent
From wikpedia:
In Canada "consent means…the voluntary agreement of the complainant to engage in sexual activity" without abuse or exploitation of "trust, power or authority", coercion or threats.[7] Consent can also be revoked at any moment.[8]»

There are 3 pillars often included in the description of sexual consent, or "the way we let others know what we're up for, be it a good-night kiss or the moments leading up to sex."

They are:

Knowing exactly what and how much I'm agreeing to
Expressing my intent to participate
Deciding freely and voluntarily to participate[20]
Saying "I've decided I won't do laundry anymore" when the other partner is tired, or busy doing things.
Is different than saying "I've decided I won't do laundry anymore" when the other partner has a chance to say "why? tell me more" and take part in negotiation.
Resources:
Relationships
Debian is the Universal Operating System.
Debian is made and maintained by people.
The long term health of debian is a consequence of the long term health of the relationship between Debian contributors.
Debian doesn't need to be technically perfect, it needs to be socially healthy.
Technical problems can be fixed by a healty community.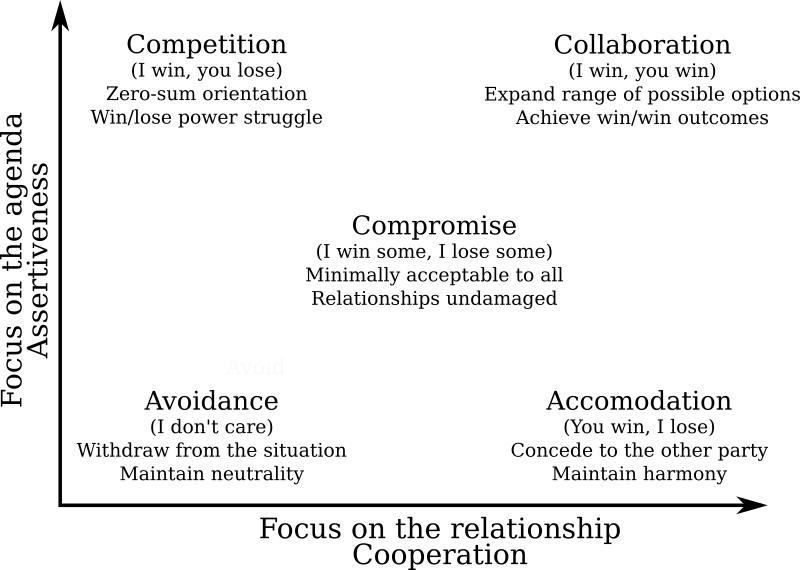 The Thomas-Kilmann Conflict Mode Instrument: source png.
Motivations
Quick poll:
how many of you do things in Debian because you want to?
how many of you do things in Debian because you have to?
how many of you do both?
What are your motivations to be in a relationship?
Which of those motivations are healthy/unhealthy?
healthy sustain the relationship
unhealthy may explode spectacularly at some point
"Galadriel" (noun, by Francesca Ciceri): a task you have to do otherwise Sauron takes over Middle Earth
See: http://blog.zouish.org/nonupdd/#/22/1
What motivates me to start a project or pick one up?
I have an idea for for something fun or useful
I see something broken and I have an idea how to fix it
What motivates me to keep maintaning a project?
Nobody else can do it
Nobody else can be trusted to do it
Nobody else who can and can be trusted to do it is doing it
Somebody is paying me to do it
What motivates you?
What's an example of a sustainable motivation?
it takes me little time?
it's useful for me
It's fun
It saves me time to keep something running that if it breaks when I or somebody else needs it
it makes me feel useful? (then if I stop, I become useless, then I can't afford to stop?)
Getting positive feedback (more "you're good" than "i use it") ?
Is it really all consensual in Debian?
what tasks are done by people motivated by guilt / motivated by Galadriel?
if I volunteer to help team X that is in trouble, will I get stuck doing all the work as soon as people realise things move fine again and finally feel free to step back?
Energy
Energy that thing which is measured in spoons. The metaphore comes from people suffering with chronic health issues:
"Spoons" are a visual representation used as a unit of measure used to quantify how much energy a person has throughout a given day. Each activity requires a given number of spoons, which will only be replaced as the person "recharges" through rest. A person who runs out of spoons has no choice but to rest until their spoons are replenished.
For example, in Debian, I could spend:
Routine task: 1 spoon
Context switch: 2 spoons
New corner case: 5 spoons
Well written bug report: -1 spoon
Interesting thread: -1 spoon
New flamewar: 3 spoons
What is one person capable of doing?
are the things that we expect a person to do the things that one person can do?
having a history of people who can do it anyway is no excuse: show compassion to those people, take some of their work, thank them, but don't glorify them
Have reasonable expectations, on others:
If someone is out of spoons, they're out of spoons; they don't get more spoons if you insist; if you insist, you probably take even more spoons from them
If someone needs their spoons for something else, they are entitled to
If someone gets out of spoons for something important, and nobody else can do it, it's not their fault but a shared responsibility
Have reasonable expectations, on yourself:
If you are out of spoons, you are out of spoons
If you need spoons for something else, use them for something else
If you are out of spoons for something important, and nobody else can do it, it's not your problem, it's a problem in the community
Debian is a shared responsibility
Don't expect few people to take care of everything
Leave space for more people to take responsibility for things
Turnover empowers
Humans are a renewable resource, but only if you think of them that way
When spoons are limited, what takes more energy tends not to get done
routine is ok
non-routine tends to get stuck in the mailbox waiting for a day with more free time

are we able to listen when tricky cases happen?
are we able to respond when tricky cases happen?
are we able to listen/respond when socially tricky cases happen?
are we able to listen/respond when harassment happens?
can we tell people raising valid issues from troublemakers?

in NM

it's easier to accept a new maintainer than to reject them
it's hard or impossible to make a call on a controversial candidate when one doesn't know that side of Debian

I'm tired, why you report a bug? I don't want to deal with your bug. Maybe you are wrong and your bug is invalid? It would be good if you were wrong and your bug was invalid.
even politeness goes when out of spoons because it's too much effort
As the project grows, project-wide tasks become harder
Are they still humanly achievable?
release team
DAM (amount of energy to deal with when things go wrong; only dealing with when things go spectacularly wrong?)
DPL (how many people candidate to this year elections?)
I don't want Debian to have positions that require hero-types to fill them
heroes are rare
heroes are hard to replace
heroes burn out
heroes can become martyrs
heroes can become villains
heroes tend to be accidents waiting to happen
Dictatorship of who has more spoons:
Someone who has a lot of energy can take more and more tasks out of people who have less, and slowly drive all the others away
Good for results, bad for the team
Then we have another person who is too big to fail, and another accident waiting to happen
Perfectionism
You are in a relationship that is just perfect. All your friends look up to you. You give people relationship advice. You are safe in knowing that You Are Doing It Right.
Then one day you have an argument in public.
You don't just have to deal with the argument, but also with your reputation and self-perception shattering.
One things I hate about Debian: consistent technical excellence.
I don't want to be required to always be right.
One of my favourite moments in the history of Debian is the openssl bug
Debian doesn't need to be technically perfect, it needs to be socially healthy, technical problems can be fixed.
I want to remove perfectionism from Debian: if we discover we've been wrong all the time in something important, it's not the end of Debian, it's the beginning of an improved Debian.
Too good to be true
There comes a point in most people's dating experience where one learns that when some things feel too good to be true, they might indeed be.
There are people who cannot say no:
you think everything is fine, and you discover they've been suffering all the time and you never had a clue
There are people who cannot take a no:
They depend on a constant supply of achievement or admiration to have a sense of worth, therefore have a lot of spoons to invest into getting it
However, when something they do is challenged, such as by pointing out a mistake one has made, or a problem with their behaviour, all hell breaks loose, beacuse they see their whole sense of worth challenged, too
Note the diversity statement: it's not a problem to have one of those (and many other) tendencies, as long as one manages to keep interacting constructively with the rest of the community
Also, it is important to be aware of these patterns, to be able to compensate for one's own tendencies. What happens when an avoidant person meets a narcissistic person, and they are both unaware of the risks?
Resources:
Note: there are problems with the way these resources are framed:
These topics are often very medicalised, and targeted at people who are victims of abuse and domestic violence.
I find them useful to develop regular expressions for pattern matching of behaviours, and I consider them dangerous if they are used for pattern matching of people.
Red flag / green flag
http://pervocracy.blogspot.ca/2012/07/green-flags.html
Ask for examples of red/green flags in Debian.
Green flags:
you heard someone say no
you had an argument with someone and the outcome was positive for both
Red flags:
you feel demeaned
you feel invalidated
Apologies / Dealing with issues
I don't see the usefulness of apologies that are about accepting blame, or making a person stop complaining.
I see apologies as opportunities to understand the problem I caused, help fix it, and possibly find ways of avoiding causing that problem again in the future.
A Better Way to Say Sorry lists a 4 step process, which is basically what we do when in bug reports already:
1, Try to understand and reproduce the exact problem the person had. 2. Try to find the cause of the issue. 3. Try to find a solution for the issue. 4. Verify with the reporter that the solution does indeed fix the issue.
This is just to say
My software ate
the files
that where in
your home directory

and which
you were probably
needing
for work

Forgive me
it was so quick to write
without tests
and it worked so well for me

(inspired by a 1934 poem by William Carlos Williams)
Don't be afraid to fail
Don't be afraid to fail or drop the ball.
I think that anything that has a label attached of "if you don't do it, nobody will", shouldn't fall on anybody's shoulders and should be shared no matter what.
Shared or dropped.
Share the responsibility for a healthy relationship
Don't expect that the more experienced mates will take care of everything.
In a project with active people counted by the thousand, it's unlikely that harassment isn't happening. Is anyone writing anti-harassment? Do we have stats? Is having an email address and a CoC giving us a false sense of security?
When you get involved in a new community, such as Debian, find out early where, if that happens, you can find support, understanding, and help to make it stop.

If you cannot find any, or if the only thing you can find is people who say "it never happens here", consider whether you really want to be in that community.
(from http://www.enricozini.org/blog/2016/debian/you-ll-thank-me-later/)
There are some nice people in the world. I mean nice people, the sort I couldn't describe myself as. People who are friends with everyone, who are somehow never involved in any argument, who seem content to spend their time drawing pictures of bumblebees on flowers that make everyone happy.

Those people are great to have around. You want to hold onto them as much as you can.

But people only have so much tolerance for jerkiness, and really nice people often have less tolerance than the rest of us.

The trouble with not ejecting a jerk — whether their shenanigans are deliberate or incidental — is that you allow the average jerkiness of the community to rise slightly. The higher it goes, the more likely it is that those really nice people will come around less often, or stop coming around at all. That, in turn, makes the average jerkiness rise even more, which teaches the original jerk that their behavior is acceptable and makes your community more appealing to other jerks. Meanwhile, more people at the nice end of the scale are drifting away.
(from https://eev.ee/blog/2016/07/22/on-a-technicality/)
Give people freedom
If someone tries something in Debian, try to acknowledge and accept their work.
You can give feedback on what they are doing, and try not to stand in their way, unless what they are doing is actually hurting you. In that case, try to collaborate, so that you all can get what you need.
It's ok if you don't like everything that they are doing.
I personally don't care if people tell me I'm good when I do something, I perceive it a bit like "good boy" or "good dog". I rather prefer if people show an interest, say "that looks useful" or "how does it work?" or "what do you need to deploy this?"
Acknowledge that I've done something. I don't care if it's especially liked, give me the freedom to keep doing it.
Don't give me rewards, give me space and dignity.
Rather than feeding my ego, feed by freedom, and feed my possibility to create.
debian
eng
life
pdo
2017-05-28 00:00:00+02:00

L'uomo in casa deve…, sennò lei se ne approfitta.
Il bambino deve imparare che…, sennò se ne approfitta.
La gente se ne approfitta.
Si approfittano di te, non devono approfittarsi di te.
Te ne approfitti, eh?

Non dare subito la risposta semplice,
pensaci su, cerca di meglio,
guarda se c'era una domanda trabocchetto,
non voler vincere facile,
non essere pigro,
fai uno sforzo,
fai vedere che ci metti dell'impegno,
non dargli soddisfazione,
fatti valere.
Tu hai visto un bel mondo.

Devi…
non puoi tirarti indietro ora,
è importante,
devi esserci, non puoi dire di no,
non puoi deludere tutti.

Non puoi essere come…
i grassi, gli ingenui, i semplici, i creduloni, i brutti, quelli vestiti male, gli sfigati, quelli che…, quelli che non…
Non puoi uscire con…
i grassi, gli ingenui, i semplici, i creduloni, i brutti, quelli vestiti male, gli sfigati, quelli che…, quelli che non…
Ama chi vuoi, ma non…
i grassi, gli ingenui, i semplici, i creduloni, i brutti, quelli vestiti male, gli sfigati, quelli che…, quelli che non…
O non usciremo con te,
o non ti ameremo.

Ho imparato a fare attenzione alle narrative,
a controllare come viene percepito quello che dico,
prima di parlare, prima di chiedere,
prima di esistere in pubblico.

A non desiderare, in compagnia di altri,
quello che non bisogna fare,
fino ad essere, in compagnia di altri,
soltanto un altro.

ita
life
2017-05-27 00:00:00+02:00

Gli Altri erano un mondo a parte,
una massa insensata, con logiche sue, logiche oscure.
Un mondo che a volte si interessava a me, travolgendomi,
poi perdeva interesse e se ne andava.

Lo dovevo tenere buono, per evitare di esserne travolto.
Avevo paura di finire al centro dei suoi interessi.
di diventare un suo hobby.

  "Non merito la tua attenzione,
  non ti chiedo niente,
  non mi metto in mostra,
  non ho bisogni,
  sto bene cosí,
  non causo problemi,
  ti do quello che chiedi,
  non ti disturbo,
  non guardarmi,
  non sono nessuno,
  non è me che stai cercando."

Ho provato a chiedere: "lasciami stare"…

  "E perché?
  Come sei…
  Volevo solo chiederti…
  Volevo solo dirti…
  Volevo solo farti vedere…
  Volevo solo che tu…
  Dai, non fare cosí,
  stai al gioco!
  Non stare in un angolo!
  Dí qualcosa anche tu!
  Fammi divertire!"

E allora gli davo quello che chiedeva
finché non mi lasciava stare,
ma non è me che stava cercando.

ita
life
2017-05-16 23:12:41+02:00
There was an accident on the motorway, luckily noone got seriously wounded, but a truckful of sugar and a truckful of cereals completely spilled on the motorway, and took some time to clean.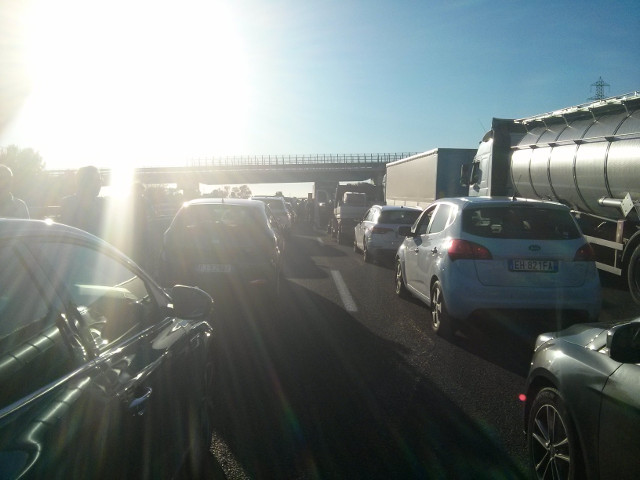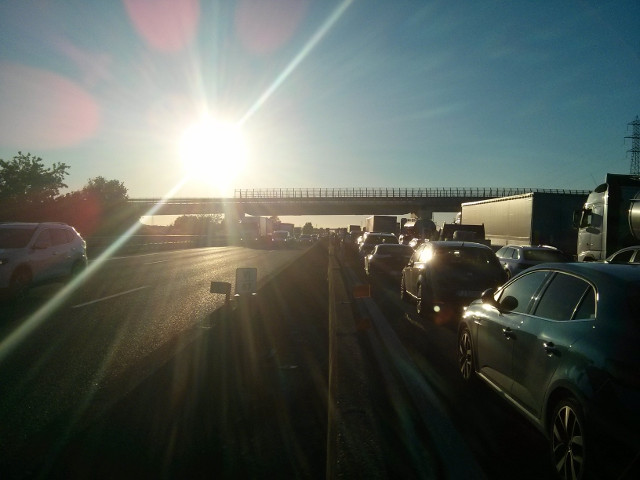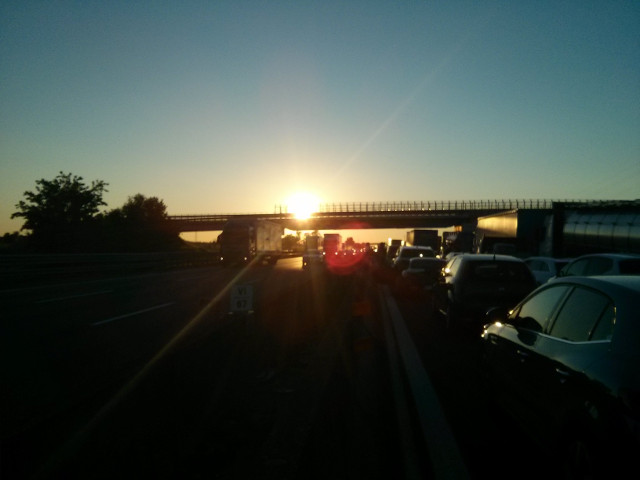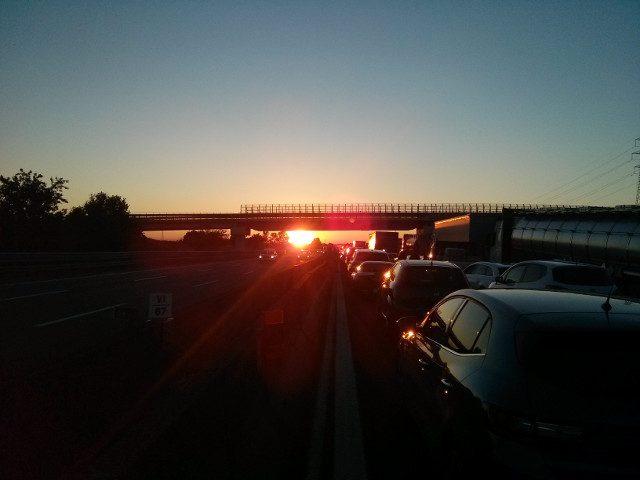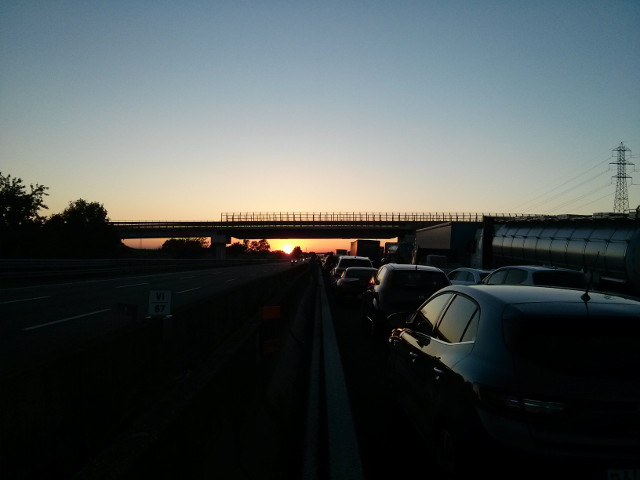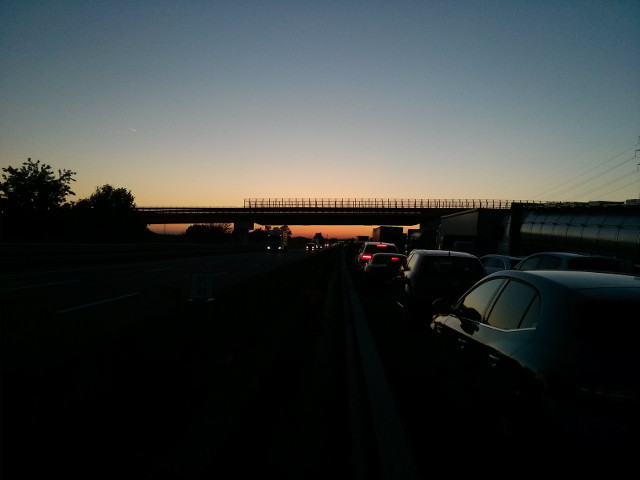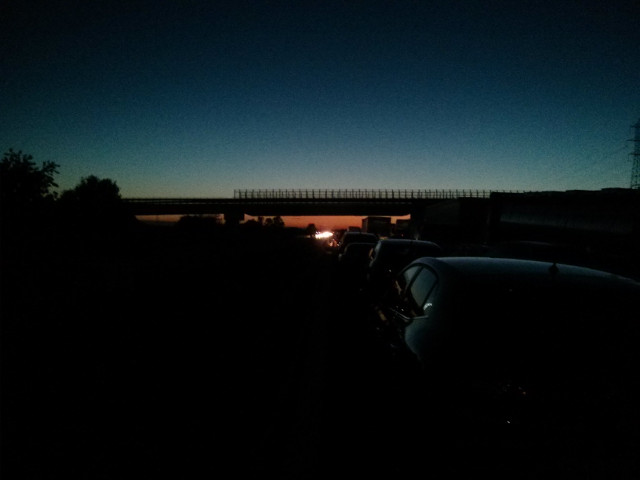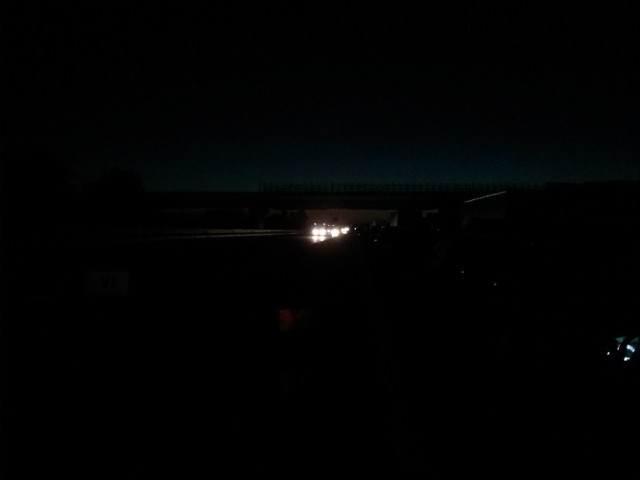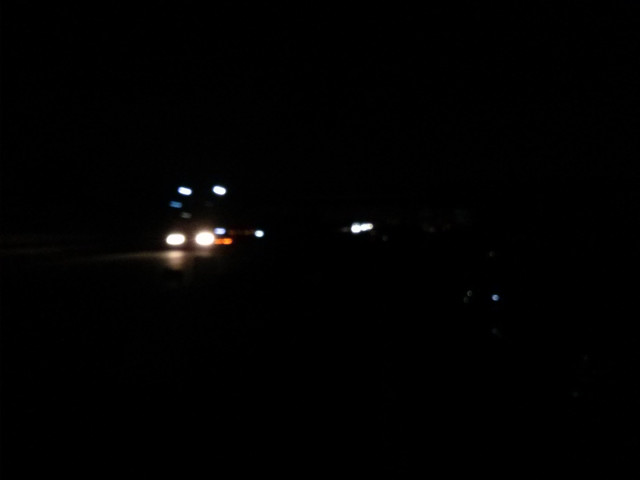 eng
life
pdo
2017-05-02 15:45:38+02:00
I like Discordian Pope cards.
I wanted to print a batch, but online I could only find low-quality .jpg versions, so I took inkscape, used the low-quality as a template grayed out in a background immutable layer, and redid them properly.
Here are the results:
Preview:


I release them under the WTFPL license: you can print them, redistribute them, and modify them at will.
The fonts I used are:
Update: now available as a git repo
eng
life
pdo
2017-01-07 14:38:52+01:00
When I saw this video or this video I thought of this article.
When I feel part of a tightly coordinated and synchronized team I feel proud for the achievements of the team as a whole, which I see as bigger than what I could have achieved alone.
I also don't feel at risk of taking bad decisions. I feel less responsible. If I do what I'm told, I can't be blamed for doing the wrong things. I find it relaxing, every once in a while, to not have to be in charge.
I guess this could be part of the allure of a totalitarian regime: being freed from the burden of growing up
Thinking about this, reading those articles about romantic relationships, I see quite a bit of parallels also with organising cooperation and teamwork.
It looks like I ended up making parallels between Polyamory, Anarchism, and Free Software again. If you think there should traditionally be also a mention of BDSM, go back to "I find it relaxing, every once in a while, to not have to be in charge".
debian
eng
life
pdo
2016-09-10 09:47:03+02:00
From "Stop stealing dreams":
«Settling for the not-particularly uplifting dream of a boring, steady job isn't helpful. Dreaming of being picked — picked to be on TV or picked to play on a team or picked to be lucky — isn't helpful either. We waste our time and the time of our students when we set them up with pipe dreams that don't empower them to adapt (or better yet, lead) when the world doesn't work out as they hope.

The dreams we need are self-reliant dreams. We need dreams based not on what is but on what might be. We need students who can learn how to learn, who can discover how to push themselves and are generous enough and honest enough to engage with the outside world to make those dreams happen.»
This made me think that I know many hero stories based on "the chosen", like Matrix, like most superheros getting powers either from some entity chosing them for it, or from chance.
I have a hard time thinking of a superhero who becomes one just by working hard at acquiring and honing their skills: I can only think of Batman and Ironman, and they start off as super rich.
If I think of people who start from scratch as commoners and work hard to become exceptional, in the standard superhero narrative, I can only think of supervillains.
Scary.
It makes me feel culturally biased into thinking that a common person cannot be trusted to act responsibly, and that only the rich, the chosen and the aristocrats can.
As a bias it may serve the rich and the aristocrats, but I don't think it serves society as a whole.
eng
life
pdo