Most Italian regions have agencies providing good regional weather forecast. However, I could not find a useful national index of all their weather forecast pages. So I made one, tweaking an image map found on wikipedia.
Note: there is now MeteoRegioni.it from Centro Funzionale Regione Autonoma Valle d'Aosta that does the same I tried to do here, only better.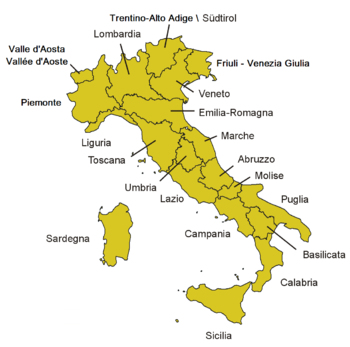 This is incomplete, I'm updating this only when I need to plan trips. If you know of a weather forecast page of a regional, official, public funded agency that is missing here, send me an e-mail.
If I got the links right, These forecasts are usually more accurate than commercial weather services, because they are those that are used for actual official purposes like disaster prevention, evacuating villages, keeping ships in port, paging farmers to run to deploy hailstorm nets, keeping snow plough drivers on standby, and most importantly, keeping meteorologists awake all night to monitor the evolution of severe weather conditions.
A botched forecast here costs way more than some ad clicks.
Val d'Aosta
Piemonte
Lombardia
Trentino - Alto Adige / Südtirol
Friuli Venezia Giulia
Veneto
Liguria
Emilia Romagna
Toscana
Marche
Umbria
Lazio
Abruzzo
Molise
Campania
Puglia
Basilicata
I could not find a working link.
Calabria
I could not find a working link.
Sicilia
I could not find a working link.
Sardegna